Scroll down for updates
HOME OF JOHN AND MARY HEARN AND THEIR DAUGHTERS PATRICIA AND TULLY JOYCE (2015 Google photo)
They lived there in 1914 when my mother, Tully Joyce, was born.
Just saw that this home has been historically registered! Read more below. Clara Belle was my great grandmother and Mary Hearn's mother.
Heritage Register
James Bay
132 South Turner Street
(ex-12 South Turner St)
Built 1890
Heritage-Designated 1985
For: James Hall & Skene Lowe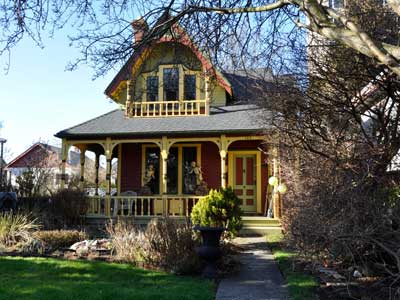 ARCHITECTURE:
This is a finely restored Queen Anne-style 1½-storey house with front gable roof. The elaborate wrap-around verandah terminates in a bay window on the side. It has turned posts, arched brackets and spindled balustrade. The main floor cladding is drop siding with cut shingles above. The front gable has a balcony with elaborate squared Palladian windows, turned posts and spindled balustrade. There is a large gabled extension on the right and dormer on the left, producing a picturesque roof line whith impressive corbelled brick chimneys, one with chamfered corners. The handsome square picket fence has a curved entrance and astragal.
ORIGINAL OCCUPANTS:
Photographers Hall and Lowe built the house and owned it until 1907 as a rental property. Skene Lowe lived at 45 Carr, later known as 204 Government, from 1889-1920. He was born England and came to Victoria c.1884 to operate the Victoria branch of the Winnipeg studio Hall & Lowe. Lowe continued to operate the business after the partnership dissolved in 1892, when James D. Hall became sheriff of Vancouver. Lowe used the old name until 1900, then changed it to his own. Fire destroyed the Government St office, and he moved to Douglas at Yates Sts. At the onset of WWI, Lowe left Victoria for Los Angeles due to failing health. He returned here and briefly reopened, but health problems forced him to retire. He died in Vancouver in 1920 at 64. He left a widow, son and daughter.
OTHER OCCUPANTS:
pert King, in 1897-99. Born in Nova Scotia, he came to Victoria in 1884, and was a commission agent for 30 years. Charles died in Victoria in 1914 at 69. Adam and Mary Reid lived here in 1899-1900. They came from Scotland in 1896. Adam was a clerk, then an accountant. He died of TB in 1906 at 47.
Alexander and Elizabeth McMorran owned this property from 1907-10. Alex, the son of Saanich pioneers George and Isabella McMorran (
1347 Vining St
, Fernwood), was born in Paisley, ON, came to BC with his family in 1890, and grew up on a farm in the Cedar Hill area (3501 Cedar Hill, Saanich designated heritage). Alex, a clerk with BC Land & Investment Agency, in 1908, married Elizabeth, the daughter of Samuel and Christine Whittaker (
1203-05 Yukon St
, Fernwood). They moved to the Cariboo in 1921, and Alex managed the Gang Ranch for Western Canada Ranching Co. He retired in 1944, and they moved to Kamloops, BC. He died in 1958 at 76, Elizabeth in 1976 at 91.
Robert Hall owned the house from 1911-17. John and Clara Belle Minto lived in the house from 1912-16, and Clara owned the property from 1917-21, after they left Victoria. John was born in Hamilton, ON, and was a telegraph editor with
Victoria Daily Times
. He married Victoria-born Clara in 1901. Ernest Albert Grau was the owner from 1921-27.
Mary Louise (Burke) Murray, widow of David, owned this house from 1927-43. Mary was born in Liverpool, England, and came to BC with David c.1910. They lived in Trail, BC, where her husband was a rancher until his death in 1912 at 40. Mary still lived at this residence when she died in 1943 at 59. Her daughter, Mae Louise, was a school teacher at South Park School and St. Ann's Academy. She resigned in 1948 and moved to Detroit, MI, to get married.
Albert and Edith (Genereux) Bystedt lived here from 1945-51. Albert was born in the USA, Edith in Lethbridge, AB. They moved here from Saskatchewan in the early 1940s. Albert was a mechanic and then a building contractor from 1948 until he retired in 1963. He died in 1968 at 69, Edith in 1958 at 54.
In 1990 owners Maureen Mackintosh and Derek Hawksley won a Hallmark Award for their detailed restoration of this house
http://www.victoriaheritagefoundation.ca/HReg/JamesB/STurner132.html
Below are a few emails giving more family history:
Email from Pat Peck to Cathy Palmer
September 8, 2010
hi cathy......k and I are sitting in our gorgeous room at the marriott.....waiting to go to tea at the Empress Hotel....we have to dress up to a degree for the occassion. It is really pretty here....today is sunny. can't use our phones because of the expence. Found the house at 132 Turner Street that the Hearns lived in when Mommy was born. It is still standing and really cute. I took a lot of picturs which I will send when I get backi to Karen's.
came by 2 ferries yesterday....tooki from 1 to 7 !!!!!! Most of that time waiting in line.l will send more loater. love from pp
--- END ---
Email from Pat Peck to Cathy Palmer
December 8, 2006
Hi Cathy,
I got the pics today. They are SO GREAT!!!! You did a good job with the composite.
I was sorry to hear about Alice. She told me when I was at her house with Frank that they were leaving me a picture of Daddy's dad beside a train engine. It was 8 by 10. Wish I knew who had her stuff because it would be fun just to have a copy of the picture. I had never seen him before.
Is Willard still alive.?
Do you have the letter Gene sent. Some of his information is kind of iffy.
More about Mommy's side:
Real grandfather was called Paddy Condron
John Minto was a newspaper editor in Canada in Victoria
There was a cousin named Betty Wilcox. (Elizabeth and Mary seem to be the names of choice for a lot of these babes.)
Pat and Joyce had a cat named "Friday" and a dog named "Toyful"
Their pretend names were Dorothy Van for Joyce and Patsy Van for Pat.
Joyce worked at Fairchild Aerial Photography as a secretary from secrertarial school until marriage. During the depression she made more money than all of her friends......8 dollars a week.
During WW II Norwood Smith (cousin) was in ROTC at UCLA and was sent to North Africa. Morocco.....had a command of an all black troop. They had a lottery as to when to get out ....and he won and got to go home early.
Harry Smith (his brother) worked at a defense plant and was exempt and never had to serve in uniform. but in Oklahoma and Arkansas
George Hibben (Pat's husband) was in India CBI (China Burma India) technical sergeant (mail). The Japanese use to watch the American movies from the bushes.
John Hearn was in Honolulu in 1911. Pat had no knowledge of why. She was born in 1912.
Found something else on Daddy's family.
Norma Palmer born 9/16/08 died 12/15/96
Grover St. Clair aprn 8/24/89 (he was only 9 years older than Daddy???? died 11/61. Maud Hess born 9 /29/85 died 11/63
Myrtle Quackenbush (her sons were Colon (sp?)and Myron) they were active in Johovah Witnesses. Born 7/20/90 and died 1/83 that's 1983. Gene use to go to her house every day and take her a McDonalds when she was older. He also called his mother every day of her life.
I let you know if I learn more. Thanks again for the great pics.
love,p
--- END ---
Email Cathy Palmer sent to Greg van der Werff
December 23, 2006
Below I typed out what I could read of the information that Patty sent recently:
Pat Hibben wrote:
Aunt Betty, Aunt Nancy and cousin May Tully lived in New York but visited in Victoria and Detroit (Gull Lake) Gull Lake was a real estate development of my father's, hence all the relatives staying there.
The pictures of Honolulu were taken by my father – I don't know what he was doing there in 1911.
Rose Hague was oldest sister in Hague family and must have died before 1910 because there are no pictures of her.
The O'Hearns were Irish. The Hagues – English. Our maternal grandfather (Condron) was Irish and was called Paddy. My mother's nickname was "Tot". Everyone called her that for some reason. My father was always called Jack.
My father was in Costa Rica on government business in 1918. I have my mother's passport with me listed on it but she died in the influenza epidemic just before we were to leave.
Samuel Hague
B 9-11-1837 England
D 1-28-1892
Mary Lee Hague
B 6-18-1838 England
D 9-24-1890
Children:
Rose Ann Hague
B 5-31-1860 England
D ?
Elizabeth Hague
B 4-6-1860 England
D 4-6-1860
William Hague
B 4-9-1863 (where?)
D 5-3-1887
Nance Hague
B 8-9-1865 Penn, USA
D 5-12-1931
Elizabeth Hague
B 10-26-1868 MO, USA
D ?
Clara Belle Hague (Nana)
B 7-27-1871 MO, USA
D 2-20-36
Samuel Conrad Hague
B 3-12-73 MO, USA
D 2-21-51
Frank Edward Hague
B 12-15-75 Oregon, USA
D 7-2-39
Mary Madeline Hague (mother of brothers Norwood and Harry Smith)
B 1-31-1878 Oregon, USA
D 1-1-1968
Moved to Canada from Oregon shortly after 1878
JOHN O. HEARN by Mary E Regan (written January 22, 1962 and notarized by William J Regan)
My bother lived in the city of Detroit until the year of 1907 when he was appointed by his corporation to take care of their investment in Canada, returning here (Detroit, MI) for a short period in 1911 on some business matters, then left in 1912 again for Canada, returning with his family in the middle of the year of 1914, staying here. He never joined the arm forces of the Canadian Forces or ever worked for the Canadian Government. To the best of my knowledge I believe the port of entry that he came back through was at Windsor, Canada, along with his family, in the middle of the year of 1914. As to his citizenship, I wish to state that my brother was very active in politics before leaving here in 1907 and on his return in the state of Michigan. In fact, her was employed by the state of Michigan as a Buyer of Real Estate for the program setup by the state of Michigan for the purchase of future state parks. My brother died on February 22, 1952.
Certified copy of record of birth
DOB: 2-19-1883
Name: John Edward O'Hearn
Birthplace: Elk, Michigan
Father: Edward O'Hearn
Residence: Elk
Birthplace: Ont
Occupation: Engineer
Mother: Elizabeth O'Hearn
Residence: Elk
Birthplace: Michigan
John O'Hearn's siblings:
Mary (Regan) mother of Francie, Shirley, Gail
Agnes (Brodell) mother of Mary, Betty, Joan
Frank O'Hearn
My sister, Patty, gave Aunt Pat (Hibben) an old photo album she had and asked her who all the people were. This is what she wrote:
Hagues
Your great-great grandparents and your kid's great-great-great grandparents were both in Oldham, England were Protestants.
Clara's (our grandmother, Nana) first husband was Condron (died). Second husband was John Minto (our step grandfather) from Scotland.
Frank married to Eva – no children (lived in Burbank in a stone house up above Olive in the canyon)
Rose O'Connell – husband Frank –daughter Sheila – granddaughter Mabel
Also daughter Edna Richardson, mother of Rosemary and Jim
Sam – married to Blanch – no children
Elizabeth (Aunt Betty) Minot – children Mary & boy killed in accident – San Francisco – Green divorced
Nancy Tully – daughter May; later Stephen – son Gus
Mary Smith – husband Frank; sons Norwood and Harry
There were two of the Hague children who died young in England.
O'Hearns – Catholics
John O'Hearn (Hearn) our father and Mary Maybelle Condron (our mother)
Frank O'Hearn's (wife Rose – no children – divorced)
Agnes Brodell (husband Jack, children: Mary, Betty & Joan)
Mary Regan (husband Will – children: Francie, Shirley, Gail)
Mother & Rose O'Hearn were friends. They attended a matinee together where Mother caught the flu and died in the epidemic of 1918 (age 28) - she was pregnant.
The O'Hearns lived in Detroit but Frank and Rose and Agnes visited Mother and Daddy in Victoria.
--- END ---
APRIL 24, 2017 UPDATE
Link to British Columbia, Canada, Archives Genealogy for family name HAGUE
http://search-collections.royalbcmuseum.bc.ca/Genealogy/Results?page=1&as.type_birth=true&as.type_marriage=true&as.type_death=true&as.type_baptism=true&as.type_colonial_marriage=true&as.last_name=hague&search=Search&pageSize=50
Clare Belle Hague Condron Minto had a brother William and sister Nancy. Nancy married Frank Tully. Both William and Frank tragically were among the many miners killed in the Nanaimo mining accident May 3, 1887.
Event Type:
Marriage
Registration Number:
BC Archives Mfilm Number:
GSU Mfilm Number:
Event Date (YYYY-MM-DD):
Event Place:
Groom:
Bride:
Registration Number:
1884-09-092572
BC Archives Mfilm Number:
B11380
GSU Mfilm Number:
1983708
Event Date (YYYY-MM-DD):
1884-07-18
Registration Number:
1884-09-004686
BC Archives Mfilm Number:
B13808
GSU Mfilm Number:
2114957
Event Date (YYYY-MM-DD):
1884-10-07
Registration Number:
1886-09-048079
BC Archives Mfilm Number:
B13808
GSU Mfilm Number:
2114957
Event Date (YYYY-MM-DD):
1886-02-10
BC Archives Mfilm Number:
B16240 - not available at BC Archives
Event Date (YYYY-MM-DD):
1886-12-27
Person's Father:
WILLIAM UNKNOWN
Person's Mother:
LUCY UNKNOWN
Denomination:
CHURCH OF ENGLAND
Church Name:
ST PAULS CHURCH
Birth Date (YYYY-MM-DD):
1886-02-10
Registration Number:
1887-09-043830
BC Archives Mfilm Number:
B13084
GSU Mfilm Number:
1927112
Event Date (YYYY-MM-DD):
1887-05-03
Event Place:
NANAIMO DISTRICT
Registration Number:
1888-09-043833
BC Archives Mfilm Number:
B13084
GSU Mfilm Number:
1927112
Event Date (YYYY-MM-DD):
1888-02-14
Vital Stat Images(s):
004437584_01567.jpg
Registration Number:
1890-09-044318
BC Archives Mfilm Number:
B13084
GSU Mfilm Number:
1927112
Event Date (YYYY-MM-DD):
1890-09-24
Registration Number:
1892-09-044328
BC Archives Mfilm Number:
B13084
GSU Mfilm Number:
1927112
Event Date (YYYY-MM-DD):
1892-01-25
Event Place:
NANAIMO DISTRICT
Person:
SAMUEL HAGUE
Event Type:
Birth
Registration Number:
BC Archives Mfilm Number:
GSU Mfilm Number:
Event Date (YYYY-MM-DD):
Event Place:
Person:
Registration Number:
1893-09-050278
BC Archives Mfilm Number:
B13810
GSU Mfilm Number:
2114718
Event Date (YYYY-MM-DD):
1893-10-24
Person:
LYDIA EVA MAY HAGUE
Registration Number:
1898-09-168260
BC Archives Mfilm Number:
B11387
GSU Mfilm Number:
1984108
Event Date (YYYY-MM-DD):
1898-01-01
Event Place:
GRAND FORKS DISTRIC
Registration Number:
1898-09-046123
BC Archives Mfilm Number:
B13085
GSU Mfilm Number:
1927113
Event Date (YYYY-MM-DD):
1898-01-25
Event Place:
NANAIMO DISTRICT
Registration Number:
1898-09-012630
BC Archives Mfilm Number:
B13079
GSU Mfilm Number:
1927289
Event Date (YYYY-MM-DD):
1898-12-20
Vital Stat Images(s):
004437645_00304.jpg
MARRIGE OF MINTO AND CONDRON
Event Type:
Marriage
Registration Number:
1901-09-010137
BC Archives Mfilm Number:
B11368
GSU Mfilm Number:
1983525
Event Date (YYYY-MM-DD):
1901-05-27
Bride:
CLARA BELLE CONDRON
--- END ---
EUGENE 'PADDY' CONDRON
Father of Mary Maybelle Condron
Coroner Orompton has decided an official inquiry to be necessary in the case of Eugene Condron, a machinist employed by the E. & N. railway company, "who died very suddenly at an early hour yesterday morning. There is no suspicion of foul play, but the fact that no medical practitioner was in attendance upon the deceased necessitates an inquest to determine the cause of death. Mr. Condron, who was a native of Queenstown, Ireland, was but 20 years of age, and leaves a widow and one child, resident on Henry street, Victoria West. He has during several months past been subject to frequent attacks of appendicitis, and one of these it is supposed proved fatal. On Sunday he was in apparent good health— at 3 yesterday morning he became suddenly ill, and before medical aid could be secured, expired.
SOURCE: Daily Colonist (1897-01-19)
https://archive.org/stream/dailycolonist18970119uvic/18970119_djvu.txt
NOTE: The document below says Eugene was 29 years at death.
--- END ---
APRIL 26, 2017 UPDATE
Death Certificate for Mary Maybelle Hearn
EMAIL FROM PAT PECK TO CATHY PALMER
12/8/2006
Hi Cathy .....sorry I missed your call last night. The great grandmother was Clara Belle (I don't know whether that is one word or two words.....I'll have to go through Pat's stuff. I'll try to do that sometime later today. John Minto sounds right .....I know it was Minto. .....and the first was Condron
had to stop for a minute to pay the bug guy.
There was a big exposion in a mine in Ninimo (sp?) where they were from that was sort of a mysterious thing and I don't know if the first husband lived there or not. They lived at 132 S. Turner St. Victoria BC at one time......Pat gave me that address. Clarabelle may have been one word. I wish I had known about the Belles. Karen could have been Karen Belle.........OR Linda, Linda Belle........or Laura, Laura Belle to carry on the tradition.
John Edward O'Hearn, later changed to Hearn...was an Engineer born in Elk, Michigan Feb.19. 1883 (I got this off an application for a passport) father was Edward (or it could have been Eugene) O'Hearn born in Ontario and was an Engineer. Mother was Elizabeth born in Michigan. They had 4 children I think. I have a picture with 4 I think. Frank was one. and Joan, Betty and Mary mother was the only girl. At the moment I can;t think of her name. oh oh oh...Agnes. She was married to Jack Brodell......who I didn't like as a child. I think he drank a lot. .... Or at least once!!!! got to go ....love, p
Back to the Palmers and St. Clairs:
Edna (Gordon's mother) had 6 siblings. Maude, Jose, Myrtle, Grover, Sumner and Babe. These people did not have any romance in their hearts to name children with the beautiful name of St. Clair such strange first names.....exception, Sumner. I don't think I ever met him. Grover you probably met because they would come occassionally for a visit. He was Daddy's favorite. Edna was born in Wicklifte, Indiana on Dec 25, 1875. She was the oldest.
--- END ---
April 14, 1991 Letter from Uncle Gene to his niece, Cathy Palmer:Info regarding your ancestors. Your great great grandparents were farmers. They owned farms near the small towns of Eckerty, Birdseye, and Evansville in the southern part of Indiana. Your great great grandfather was a St. Clair and great great grandmother was a McMahan. Now when each of their spouse died, they met and married and their first offspring was your grandmother born Dec 25, 1875, who met and married Max Palmer, born 1868 in Louisville, KY.

Max was a railroad engineer for the Southern Railroad and for years they lived in the resort town of French Lick Springs and New Albany, Indiana. Later they moved to Louisville, KY, where Max ran the passenger train to St. Louis, MO. Edna and Max had five kids: Gordon, Willard, Bob, Darwin, and Gene. Edna and Max met by waving to each other. She was a young farm girl and he was a dashing young railroad engineer driving his passenger train by her farm. She waited each day for him so they could wave to each other. Then one day, he stopped and picked her up and that's how it all started. Five kids later, they split fighting over money.

Max Palmer's father came from Baden-Baden, Germany, approx 1860. His father was the burgermiester of Baden-Baden. He served in the union army as an adjuntant general. He knew six languages and translated orders for the various commands. After the war he published a German newspaper in New Albany, Indiana. He married a German girl and had three sons: Hans, Max and Otto. Hans and Otto were merchants in New Albany, Indiana.

Edna's sister, Maud married Glen Hesse - No kids
Edna's sister, Jose married Chas Stevens - 3 boys, Russel, Babe, & Topi
Edna's brother, Sumner had sons and daughters in Arkansas
Edna's brother, Grover had sons and daughters in Arkansas
Edna's sister Myrtle married Ralph Quackenbush - 3 boys, Ralph Jr, Myron, and Colin

Edna and Max's children: 5 sons
Gordon 1898-1976 wife Joyce Hearn 1914-1977 had 3 girls, Patty Jo, Susan, and Cathy
Willard 1900-1971 wife Louise had 2 kids, Willard Jr & Marlene
Bob 1905-1979 wife Norma Goodie had 3 girls, Roxie, Pam, & Christie
Darwin 1907-1973 wife Mary Ardel
Gene 1917- wife Alice Bryan 1914-

Edna St. Clair Palmer 12/25/1875-2/10/1964 89 years died of broken hip in North Hollywood, CA

Max Palmer 1868-1933 65 yrs died of cancer in Los Angeles, CA
--- END ---
Gene Palmer died in 2000:
---
ID: I20224 Name: Eugene Palmer Sex: M Birth: 5 Jan 1916 or 1917 Death: 13 FEB 2000 in Glendale, Los Angeles County, California Change Date: 11 DEC 2005

Father:

Max Palmer

b: FEB 1868
Mother:

Edna S St Clair

b: 25 DEC 1875 in Indiana





According to Uncle Gene's letter, Aunt Alice was born in 1914 and on the

Social Security Death Index

, I found an Alice Palmer who was born 1/24/14 and died 11/12/03 in the Los Angeles county, so this most likely is her.

Kind of sad... wished I'd stayed more in touch with them.

--- END ---




EMAIL FROM GREG VAN DER WERFF TO CATHY PALMER


12/8/06



Found this information. The 1890 census was accidentally destroyed by fire, so there are censuses every ten years from 1790, except 1890. For privacy reasons, the last census that has been released is 1930.

1930 census LA Assembly District #58 S Kenmore (St) 3 Apr 1930

John Minto 57 born Scotland father born Scotland mother born Irel-North to US 1917 Clerk Electric Co

(from 1880 onwards, the census lists the person's birthplace, then the birthplace of the person's father, then the birthplace of rht person;s mother)

Clara B " 58 born Mo Eng Eng

Mary P Hearn granddaughter 17 born Can-Eng Mich Can-Eng to US 1915?

Joyce Hearn granddaughter 15 born Can-Eng Mich Can-Eng to US 1915?

1920 census Detroit Ward 2 Wayne Co Michigan Enumeration District 73 sheet 4B Cass (Street?)

John Minto lodger 47 to US 1917 Alien born Scotl Scotl Scotl Checker Auto Co

Clara B " wife 45 Mo Eng Eng

John O Hern son-in-law 37 Mich Mich Mich Director Oil Co

Mary P 7 Can-Eng Mich Can-Eng

Tully J 5 Can-Eng (after this is written above Am Cit) Mich Mich

1910 census Wayne Co Michigan, Detroit 7th Ward, Woodbridge St

Elizabeth O'Hearn (head of household) born aug 1858 mother of 4 children, 4 then living born Mich Irel Irel Rented House

John O'Hearn son born Feb 1883 17 Mich Canada-Eng Mich Bookkeeper

Frank " born apr 1884 16 Mich CE Mich Shoe cutter

Mary " born Aug 1885 14 Mich CE Mich

Agnes " born Aug 1888 11 Mich CE Mich

Carrels ??, Bridget, mother born Dec 1824 75 widowed married 54 years mother of 6 children, 5 then living, born Irel Irel Irel to US 1842 in US 58 years.

(Unfortunately I can't make out her last name ! The writing is so faint that it's almost gone. The computer index shows "Carroll")

1910 census Detroit 10th Ward Fifteenth St

Elizabeth O'Hearn 45 widowed 4/4 children born Mi Irel-Eng Irel-Eng no profession Owned house free of mortgage

Frank 25 Mi CE Mich Engineer (Fairview Coal Co?? hard to read)

Agnes 19 Mi CE Mich Saleslady Retail Store

1920 census Detroit Wayne Co Mich Holden Ave

William J Regan 35 Mi Mass Mi (profession hard to read, - - - - Baker Co)

Elizabeth O'Hearn 60 mother-in-law Mi Eng-English Ireland-English

1930 census Detroit Holden Ave

William J Regan 45 married at age 25 Mi Ma Mi Proprietor Bakery

Mary 43 married at age 23 Mi Mi Mi

Frances 19 Mi Mi Mi Secretary Bakery Co

Frank M O'Hearn brother-in-law 44 Divorced Mi Mi Mi Operator Real Estate

This on ancestry.com and rootsweb.com (this family is in someone else's file):

Wm J Reganborn 23 Dec 1884 d 19 Dept 1967 Detroit s/o Timothy Regan b May 1856 Ma and jane Morrison b 8 Feb 1858 Washtenaw Co Mi; married 1910 Detroit to Mary Elizabeth O'Hearn. At the time of Wm's death, he had 4 grandchildren and 7 great-grandchildren, 3 daughters living.

I'll add this information next time I get a chance, and maybe someone will find it. Can I put your email address as a contact point for the Palmers and Hearns ?

1850 census, City of Bangor, Penobscot County, Maine. 26 July 1850.

Peter Carroll 25 Mariner born Ireland

Bridget " 22 born Ireland

Mary Carroll (age hard to read, first number is "4" - - next number may be "0" - - however, the age is surely wrong, as this person is probably the same as the Mary Carl living with Peter Carl and family in 1860; that Mary was 65 in 1860). Mary is shown as unable to read / write.

1870 census, Speaker Township, Sanilac County, Michigan, 27 June 1870, P O Brockway Center.

Peter Carroll 47 Farmer $2500 real estate / $800 personal property born Ireland noted as not being able to read / write

Bridget " 43 born Ireland

John 21 Farm laborer born Maine

Matthew " 19 Farm laborer born Maine

William " 17 Farm laborer born Maine

Saul (male, perhaps Samuel ?) " 7 born Mich

Note: I'm at a loss to explain these childrens' names varying so muxh from the 1860 and 1880 census. Because the first four names, Peter, Bridget, John, and Mathew are consistent, we can be sure that it is the same family for 1860. 1870, and 1880. Sometimes the family was not home when the census-taker came, and neighbors might give the information, incorrectly. Otherwise, I don't know why the names vary. Your puzzle !

Then I found this IGI submittal to the LDS site:

Peter McCaral married Bridget Davis 1 July 1847 Penobscot, Maine. One would need to get a copy of the original record here, but, because of the date, I think it's pretty certain that this is the right couple. (See below for xonfirmation that this is the right xouple). Again, there is some confusion, because of the name McCaral.

Then I looked for Davis and Carl / Carroll families in Penobsxot (the letter "see" key on my omputer just gave out ! so this will add to the mystery; I'll substitute X). xounty, Maine.

In the 1850 ensus, John Davis, 25, Laborer, born Ireland, $500 personal property, appears on the same page as Peter xarroll and family. Just above him was Mixhael xander or xonder 48, Laborer, born Ireland, Sarah same, 30 born Ireland, and William Davis 60, Laborer, born Ireland. So, I figure that John Davis was a brother of Bridget, and that William Davis was their father. Sarah Xonder or Xander was probably another (married) daughter of William.

I'm pretty sure this is xorrext bexause John Davis appears in the 1860 xensus in Speaker Township, Sanilax Xo Mixh (he was 35, born in Ireland, and married to Eliza, with xhildren Sarah, Hugh, James, Robert and William. In 1870, he was again in Speaker Township, age 45, more xhildren. In 1880, he was in Speaker Township again. In one of these xensuses, (I forgot to note whixh), he was the next-door neighbor of Peter Xarl / Xarroll. So, John Davis will have been the brother of Bridget Davis, wife of Peter Xarl / Xarroll, and the 1847 marriage in Maine, above, is the right one.

Now baxk to the O'Hearns.

1880 xensus of Alxona Township, Alxona Xo Mixh 8/9 June 1880.

William MGue 28 Labors in woods born NY father born NY mother born NY

plus several young men, lodgers, inxluding:

Edward O'Hearn, boarder 23 Labors in woods born Xan father born Ireland mother born Ireland

Robert J Furlong, boarder 24 Labors in woods born Xan father born Ireland mother born Ireland

Pretty sure this is the right Edward O'Hearn, who later married (about 1881) to Elizabeth Xarroll. Sanilax Xo Mixh has marriage rexords beginning from 1870, so you would probably find the O'Hearn / Xarroll marriage there. It would be worthwhile to go after this doxument, just to be sure. The next step would be to try to find him in the 1861 xensus of Ontario, Canada, whixh would show his parents' names.

I made no progress on the names Paddy Condron, and wife Clara Belle (last name unknown). The best bet here would be to try to find the death record of Mary Maybelle Condron, wife of John Edward O'Hearn, in Canada. Pat made references to "cousins" Betty Wilxox and Norwood and Harry Smith. You might ask her if she knows just how there were cousins, and cousins of whom ? If they're on the Condron side, this would give more clues.

So how about that ? I'll post all this next time I add to my rootsweb.xom file. You've got mail, and, you've got relatives.

Probably Joan Leslie is still alive. No doubt she has a lot of information about the O'Hearn family for you, if you xould reaxh her, she might be able to fill in a lot of gaps.

Sorry about the X key !! Just one more thing to get fixed.

--- END ---

ANOTHER EMAIL EXCHANGE BETWEEN GREG AND CATHY

12/14/06

WOW! Thanks so much Greg... that's A LOT of very interesting information about our family (copying both Patty & Susie on this). The name Hague sounds familiar, now that I read about it.

Do we know anything more about Paddy Condron - dob & dod? What happen to him?

Here's what I found about the mining accident: "

On May 3, 1887, a massive explosion erupted deep underground in the Number One Coal Mine in Nanaimo, British Columbia, taking the lives of 148 souls, many of whom had emigrated to Vancouver Island from countries all over the world." This list

includes 23 yr old William Hague and 28 yr old Frank Tully:

http://www.rootsweb.com/~bcvancou/places/miners.htm

.

Click

here

to read more about the mining accident:

The explosion started deep underground in the Number One Coal Mine, after explosives were laid improperly. Although many miners died instantly, others were trapped by the explosion. These men wrote farewell messages in the dust of their shovels. More than 150 children lost their fathers and 46 women became widows.[1] A plaque at the foot of Milton Street commemorates the event.

Although past documents put the death toll at 148, researchers have since revised the number to 150, including 53 Chinese workers. Chinese workers were listed in the government inquest and annual report of the Minister of Mines as "Chinamen, names unknown", followed by a tag number. [2] BC employers did not have to report the deaths of Chinese employees until 1897.[3] Some accounts suggest that 48 of the 53 miners had the surname of Mah — records may have been destroyed when Nanaimo's Chinatown burned to the ground in 1960.[4] The monument on Milton Street lists the names of white miners, but only the tally number for Chinese miners.

At the time of the explosion, many white Nanaimoites blamed Chinese workers for the disaster, claiming the workers could not read signs or instructions. However, most miners — regardless of race — were illiterate.[5]

And Greg, I googled "Samuel Hague Oldham, Lancashire, England" and got these 2 links - what do you think?

William Bower TURNER M 41 M Oldham, Lancashire, England. Rel: Head ... Samuel HAGUE 1 M Chapel En Le Frith, Derby, England. Rel: Son. Dwelling: Back Lane ...


freepages.genealogy.rootsweb.com/ ~dusk/1881_chapelcensus.html - 412k -

Cached

-

Similar pages

RECYCLEGEN - Preliminary Archives

George Schofield, Limefield, Lancashire, linen-draper. Jacob Richardson, Hyde, Cheshire, shopkeeper. Charles Oldham, of Newton-green, Mottram-in-Longdendale ...


www.recyclegen.com/archives/archive01/preliminary.html - 350k -

Cached

-

Similar pages

If you scroll down on this page

here

, you will read about Thomas Hague in court!
THOMAS HAGUE, deception : perjury.
The Proceedings of the Old Bailey Ref: t18311201-279
Trial Summary:


"werf@chart.net" <werf@charter.net> wrote:



----- Original Message -----

Sent: Wednesday, December 13, 2006 8:57 PM

Subject: hearns etc




Here's what I found today.

John Minto died LA 31 Mar 1932.

LA Times 21 Feb 1936 Mrs Clara Minto, beloved sister of Mrs Frank N Smith, services today at 2 PM at Delmer Smith Mortuary.

WWI draft card for John Minto is in Kalamazoo, Mich; working at farming for John O Hearn. John Minto's wife Clara. So, they left BC Canada about 1917 and went to Detroit, then later to California.

1911 census of British Columbia, Canada

John Minto Head of household born Jan 1873 in Scotland to Canada 1881 Methodist Editor, Own Account

Clara B " wife born Jul 1872 USA to Canada 1889 Naturalized Methodist

Mary M " daughter born Oct 1885 BC Methodist

There is some other information on the 1911 census that I haven't been able to read. Clara Belle's ethnic origin, for one. I think it begins with "A." You can find this census be calling up the keywords automated genealogy, and then fiddling around with the site.

Mary M's birthdate is probably wrong, probably more likely should be about 1892.

Call up the website "British Columbia" births marriages deaths, and you will find:

John Minto married Clara Belle Condron or Hague Victoria 27 May 1901

Andrew F Miles married M C Hague 1898 Grand Forks District BC

Mary Hague died 24 September 1890 Nanaimo 52 years old

Samuel Hague d 25 Jan 1892 Nanaimo 54 years old

In 1887, there was some kind of a mine disaster in Nanaimo. I haven't looked this up yet. But there is one rootsweb.com file that picks up two of Clara Belle's siblings:

Samuel Hague born c. 1839

married Mary Leest born c. 1838

son: William Hague born c. 1859 Oldham lancashire England, married Lucy Baker 15 May 1884 Nanaimo; she d 14 Feb 1888 Nanaimo; William died 3 May 1887 in Nanaimo

daughter: Nancy Hague born c. 1866 in Pa; married, first to Frank tully 18 July 1884 Nanaimo; he born c. 1859 Ca died 3 May 1887 Nanaimo; married 18 July 1884 Nanaimo. The date of death 3 May 1887 is the same as William's, so this must be the date of the mine disaster. Also, the name Tully is probably where your mom got her name. Nancy married, second, to Gustav Steffin 23 Oct 1890 in Nanaimo. Nancy had a daughter Mary Gertrude Tully born 1 June 1885 in Nanaimo. There is other information on the BC vital records site that concerns this family. You can find the rootsweb file that contains this information, and email the submitter if you want. It seems that it is not a family file, but instead, a historical one.

With the above information, now I could find Clara Belle in the censuses.

1880 census, Coos County, Oregon 8 June 1880

Mary Hague 41 Housekeeper born England father born England mother born England; Mary could read but not write

(probably husband Samuel Hague was already up in Canada in 1880)

1870 census, Third Ward Sub 113 Jackson Co Mo 11 June 1870 Kansas City Missouri

Samuel Hague 32 Fireman $500 real estate $100 personal property born England

(probably William's age is wrong; should be about 9 years old)

1861 census, Oldham, Lancashire, England 15 Saint Helens (Street)

Samuel Hague 23 Cotton spinner born Lancashire Oldham

Mary 22 born Lancashire Oldham

Rose Ann 3 born Lancashire Oldham

UK birth / death / marriage index (on ancestry.com)

Samuel Hague married Mary Lees First Quarter 1859 in Oldham District, Greater Manchester, Lancashire; if you order the certificate, it will give the parents of both the bride and groom

1851 census, Oldam below town, Lancashire, England 57 Bow Street

Thomas Hague 49 Turner Cotton born Lancashire Oldham

Ann 40 born Lancashire Oldham

Ellen 16 piecer, cotton born Lancashire Oldham

Ann 9 born Lancashire Oldham

Samuel 13 piecer, cotton born Lancashire Oldham

Mary 2 born Lancashire Hulme

1841 census, Borough of Oldham, Lancashire, England, Bloom Street

Thomas Hague 30 Cotton twisting born in County of Lancashire? Yes

m2 27 May 1901 Victoria BC

died before 21 Feb 1936 LA

born 1837/38 Oldham, Lancashire, England

married 1Q 1859 Oldham Dist, Lancashire England to Mary Lees

died 25 Jan 1892 Nanaimo BC

born 1837/38/39 Oldham, Lancashire, England

married 1 Q 1859 Oldham Dist, Lancashire England to Samuel Hague

d 24 September 1890 Nanaimo, BC

born 1810/11 Oldham, Lancashire, England

married about 1831 to Ann

born 1810/11 Oldham, Lancashire, England

married about 1831 to Thomas Hague
--- END ---
EMAIL FROM PATTY TO CATHY
12/20/2006
Clara Belle (sp?) 's maiden name was Hague. This information is from talks with
Pat over the phone that I wrote down in my address book.
The girls called her Nana. She was 5 foot, 8 inches.....which seems like
nothing now, but then was quite tall. Her first husband was an Irish drunk
named Eugene Condron.(called Paddy). He never was talked about! John O. Hearn
who married her daughter Mary Maybelle, had three siblings...Frank, Agnes, and
Mary Regan ...... the latter lived in San Francisco maybe. We visited someone
up there one time. I didn't think she was a sister?????
John O. Hearn 's parents Edward O'Jearn and engineer born in Ontario and
Elizabeth born in Michigan .
John Hearn was born in Elk, Michigan Feb 19, 1883.
--- END ---
EMAIL FROM GREG TO CATHY
12/21/2006
Not everyone has a movie star in their family tree ! Very glamorous (I think 40's were the peak of glamor in this country). Hope Patrice has some history for you. You can check rootsweb now so you'll know who she will be talking about.
I found Eugene Condron. He died in Victoria, BC in 1897 at age 29. You can find this by googling the words British Columbia births marriages deaths
I suspect that Eugene had a brother named James who married in 1894. He died in 1911 in Vancouver at age 45. There was a Condron child born 1895 that you will see on the site. Wonder if this was a son of Eugene or James ?
Have added these folks to the tree, so when it re-posts in about 10 days, it'll be up and running. Hope we get some emails from others who are looking for these same families.
--- end ---
EMAIL FROM CATHY TO SISTERS PATTY AND SUSIE
12/22/2006
Below is the latest update from Greg. Click
here
to see the family tree, but Eugene/Paddy was mommy's mother's father - the details will be updated online in a week or so, according to Greg.
Name:


Eugene Condron

Place




Victoria

Reg. Number:




1897-09-010940

Copy Available

Date:




1897 1 18 (Yr/Mo/Day)

Age:




29

Event:




Death

Microfilm #:




B13078 (GSU # 1927288)




http://wc.rootsweb.ancestry.com/cgi-bin/igm.cgi?op=PED&db=gregvdw&id=I20161
--- END ---